Ballroom Venue Hire
The finest ballroom venues for hire in Hong Kong!

Our ballroom venues are spacious, elegant, and equipped with state-of-the-art facilities, making them the perfect setting for your next event. With high ceilings, crystal chandeliers, and stunning decor, our venues provide a luxurious and sophisticated atmosphere that will impress your guests and create a memorable experience.

We offer a variety of ballroom venues with different sizes and capacities to accommodate events of all types and sizes. From intimate gatherings to large-scale events, our ballrooms will be able to suit your specific needs and preferences.

Each of our ballroom venues has a dedicated team of experienced staff to provide the highest level of service and support for your event. From the moment you book one of our venues, their staff will work closely with you to ensure that every detail is taken care of. Each ballroom venue offers a range of services, including catering, audiovisual equipment rental, event planning, and more to ensure that your event is a success. Whether you're hosting a wedding, corporate event, social gathering, or dance competition, each of these venues has a team that is committed to ensuring that your event is seamless, stress-free, and unforgettable.

So why wait? Browse our selection of ballroom venues and book your next event today. Let us help you create an unforgettable experience for you and your guests in the heart of Hong Kong.
Featured Ballroom Venues
These venues are the best of the best ballroom venues. Often booked weeks in advance, VenueHub will make sure you get the venue you need, for just the right time, at the perfect price.
Services to pair with celebrations
Catering Services
Everything from Canapes and Christmas catering to alcohol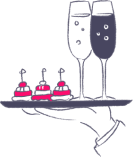 Event Consultation
Let the experts help organise the perfect event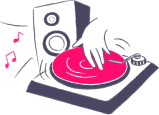 Photography
Capture memorable and candid moments with event photography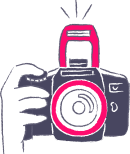 Need help finding a venue?
Give us a CALL now on +852 3595 3622 and speak to one of our venue experts who will be more than happy to help! This service is 100% FREE.
We're also on WhatsApp and WeChat! Message us your venue requirements on +852 5595 4310 (WhatsApp & WeChat only) and we'll get back to you ASAP.